The first taste of winter arrived last Sunday night, with a brief snow squall; last week in general was unseasonably cold. The wood stove had its first workout of the season. It was time to get Chip Ahoy out of the harbor and bring it home. My crew of buddies, Michael Sullivan (left) and Wally Riddle, arrived at 11 am. They and "official photographer Barbara, were ready to go get the boat by noon. The weather forecast called for mostly sunny, mid-sixties by the 2 pm high tide, when we expected to have Chip Ahoy trailered out and dropping its mast.
Michael drove the Blazer and trailer around to the Winter Island state boat ramp in Salem, on the other side of the harbor; Barbara, suffering from a nasty cold, took her own car so she wouldn't pass it around and could leave when she wanted; Wally drove his pickup so we could load Chip Ahoy's outboard in its bed. I walked down the hill to the dock and a much emptied mooring area.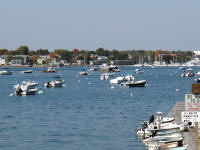 Chip Ahoy is out near the launch service float, still swinging on its mooring. The sign on the wharf indicated the town docks will be pulled out for the winter during the week of Nov. 17th.
Crossing the harbor, it was so beautiful that I was sorely tempted to hoist the sails for one last sail out into Salem Harbor, but the crew was on the other side waiting. As Chip Ahoy and I approached the Winter Island ramp, a short distance across, everything was ready to go. Already barefoot, Wally needed just to take off his shoes and roll up his cuffs . . .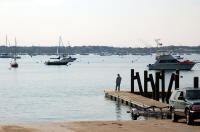 Michael waits at the end of the dock to guide me in . . .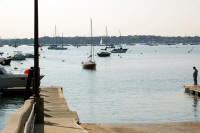 While Barbara snapped away . . .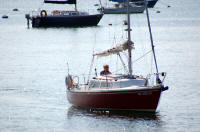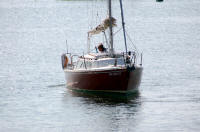 Lining the boat up with the trailer was a bit of a challenge, with a southwest breeze blowing from the port side and dock . . .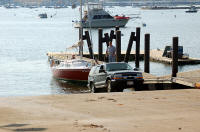 After backing out, on the second try I finally lined up straight and ran Chip Ahoy onto the trailer.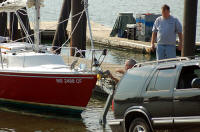 Wally the Wet gets the winch hook attached to the bow eye and cranks it in.
I watch from the cockpit . . .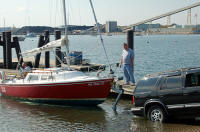 Hooked up and ready to roll . . .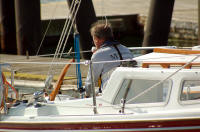 Preparing to pull up the IdaSailor rudder (note my Marston's Marina, Saco Maine shirt beneath the life vest) . . .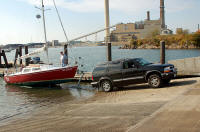 "Almost ready, guys!"
The 2009 Sailing Season has ended