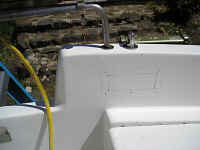 To get at the new adjustable backstay bolt to fasten a nut from between the transom and cockpit liner, I had to cut out access holes. Using one of the louvered cover plates, I marked where the hole would be cut. (Apr. 24, 2004)
I marked on both sides of the cockpit liner where I'd cut the holes.
The freshly cut holes.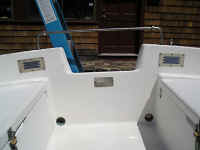 The louvered cover plates installed over the holes.
All this effort was wasted as the new portside backstay eyebolt is too tight to the transom to thread on the nut. When the new 1/2" eyebolt I ordered for the starboard side arrives, I should be able to attach its nut as the bolt is better centered between the transom and cockpit liner.
I later installed a new 1/2" backstay eyebolt on the starboard side as well, but again, was unable to fasten a nut to it -- despite there being enough room between the transom and cockpit liner for a smaller nut on the old 3/8" eyebolt. (April 29, 2004)
Another project underway simultaneously is installing a small solar panel.
With completion of the solar panel project yesterday, today I moved on with installing the deck organizers and the halyard blocks on the new mast step plates. I'm hoping lines coming through the port blocks will clear the antenna cable and mast wiring deck fittings once the mast is up, but it'll be real close. (May 2, 2004)
Sailmaker and long-time friend Josh Bevins begins assembling my Furlex headsail roller-furler. (May 6, 2004)
Since we raised the mast yesterday, I've continued on with my all-lines-led-aft project. Here's a look at the cabin bulkhead with the jib and main halyards led back to the cockpit before any cleats are attached to the bulkhead. (May 8, 2004)
NEXT
It's never-ending ... but spring has arrived at last, the projects have begun!