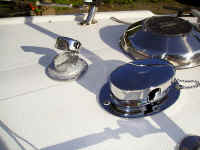 As I prepare to trailer to the boatyard on Tuesday and get launched, a last decision was to better set up my anchors for my cruise up to Maine. My primary anchor is a 14 lb. Danforth, my second is an 8 lb. which I stow beneath the cockpit sole. I moved the 10' of 1/4" chain and 200' of 3/8" 3-strand nylon line to the back-up, stowing it in a bag, and replaced it with (*see note) 20' of 3/8" chain and 200' of 1/2" 3-strand nylon line -- but then the new 1/2" thimble wouldn't squeeze down the original deck pipe (center in the photo). So I cut a bigger hole in the deck and replaced the deck pipe with a larger one. (Jun. 19, 2004)
*note: I subsequently replaced the 20' of 3/8" anchor chain with 6' of 5/16" chain in 2008. It was too much to wrestle with, and utterly overkill.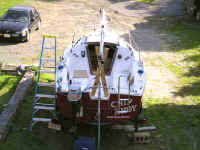 Summer has officially arrived and Chip Ahoy and I are ready to sail at long last. The mast is down with a little help today from my buddy Wally Riddle, a fellow C-22 owner. Tomorrow morning I'll trailer it over to the boatyard to launch! (Jun. 21, 2004)
I trailered Chip Ahoy down to Marblehead Trading Company's Beacon St. boatyard yesterday. Later they moved it from the parking lot into the yard and it's now waiting for the final work to be done. They thought they might launch it yesterday, but it could be launched later today! (Jun. 23, 2004)
It's still sitting in Marblehead Trading Company's yard -- almost a week later -- still not launched! On Tuesday I was told, "Maybe later today." On Wednesday it was, "Maybe today." On Thursday it was, "By tomorrow," and on Friday it was, "Monday for sure." Their "excuse of the day" is getting frustrating day after day. But at least they've got the bottom painted, if not the keel they restored over the winter. Chip Ahoy's closer to the crane with water in sight. "Monday for sure" just might actually happen at long last; then again ... (Jun. 27, 2004)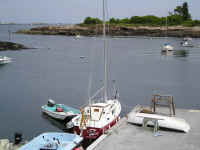 What, is that Chip Ahoy in the water at last? By god, it is -- Sailing Season '04 actually has begun. (Jun. 28, 2004)
At 3 o'clock I walked into the boatyard and found Chip Ahoy in the water, finally, "Monday for sure" happened! I quickly got it set up , fired up the outboard, and ran it over to its mooring before anyone could change their mind.
Sailing Season '04 has arrived!
Chip Ahoy at its mooring. (Jun. 30, 2004)
The Furlex roller-furler drum is tight against the pulpit stanchions and binding. I've got to either widen the stanchions or raise the drum. This won't cut it.
Josh the sailmaker later found that the boatyard rigger had fastened the furler to the middle hole in the stem fitting. We moved it to the forward hole, which provided sufficient clearance!
On a picture-perfect July day, Barbara (ain't she wonderful!) and I took Chip Ahoy out under sail for the first time this season!-- mainsail only, until I get the roller-furler set-up working right next week. (Jul. 3, 2004)
Barbara seemed to enjoy the helm, and I had a lot of "tweaking" of lines to do on deck. At least this year I remembered to take a picture of her! Tomorrow we'll go out and watch the Independence Day fireworks over the harbor.
NEXT
It's never-ending ... but summer has arrived and the real fun has begun!