Last weekend I found that the mainsail appeared "baggy," and went to the C-22 Sailnet list for advice. This shot is for one of my gurus, Dick King, who wants to see how far back the outhaul pulls back the main's foot.
An earlier experience this year convinced me that I needed a better way to reef my mainsail than climbing out on deck to loosen the sail stop on the mast. I did some research and bought custom-made mast gates from Joe Martinek of Colorado for $25. We had a heck of a time getting them here in a hurry by the U.S. Postal Service; by the time one set arrived, the second Joe sent me had arrived too! [See: How to Install Mast Gates]
They fit perfectly into the wide gap on the mast tract. The sail slugs slide up and down the new track seamlessly. It took about half an hour to position, drill, tap and install them. To order your own set, call Joe at 719-206-0229 or e-mail him. Best $25 you'll spend.
An inconvenience I discovered last weekend was, without being plugged into shore power (I had electricity at a slip in Scituate where I docked), reading and writing is difficult at best, probably impossible. As I plan to do both, I needed a dependable and independent source of light. This week I bought a Weems & Plath oil lamp and mounted it in the cabin today. (Jul. 31. 2004)
Chip Ahoy's 2004 Great Coast of Maine Cruise
August 3-23

CLICK HERE
Upon my return from my Maine cruise, David Hudson and I took Chip Ahoy out for an afternoon of sailing in very light winds the following Sunday. (Aug. 29, 2004)
Finally I've got photos of Chip Ahoy with its sails up -- note I didn't say "under sail" -- it's another "light and variable" afternoon, par for the course this summer. While Florida is being hammered by Hurricane Frances, we struggle to find so much as a zephyr. (Sep. 4, 2004)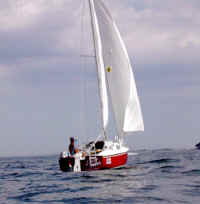 My friend Pam Derringer took these shots from her Herreshoff 12 1/2. She and I have been trying to meet up so she could provide me with a couple for a year now. Unfortunately, and as usual it seems this year, there just isn't any wind once we get together and out here. How'd Marblehead ever get the title of "The Sailing Capital of the World" with conditions like this? Sounds like false advertising from my experience.
Nonetheless, we tacked -- or should I say luffed -- around each other this afternoon and Pam has at last provided evidence that Chip Ahoy does indeed have sails! This wasn't quite what I'd envisioned for my "photo spread," but it was the best we finally could come up with. (Sep. 4, 2004)
A day of celebration: The third tiller-pilot I've installed -- an upgrade to the Raymarine ST2000 -- works at last! Will wonders never cease, hallelujah. (Sep. 12, 2004)
NEXT
It's never-ending ... but summer has arrived and the real fun has begun!