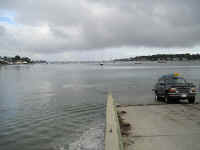 Today was the day to haul-out Chip Ahoy. The arrangements had been in the works for over a week and the weather was good. My friend Gerry was at the house before 9:30, Wally would pick up my Explorer and trailer there at 11:00, Barbara would lead him down to the Riverhead Beach ramp, and Ted would meet us there. His pressure-washer was in the back of my Explorer and it was ready to roll. (Oct. 14, 2004)
Gerry and I arrived through Marblehead Harbor to the ramp as planned at 11:30, high tide. I had an hour on either side of high tide before it went out too far to launch or haul, running out about a hundred yards over beach at low tide. Wally, Barbara and Ted were waiting and ready as Chip Ahoy motored in for pick-up.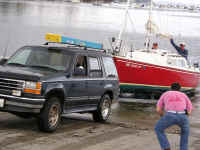 Chip Ahoy leaves the ocean and Sailing Season '04 behind.
Gerry and I ride the boat ashore.
Yep, hard aground for sure.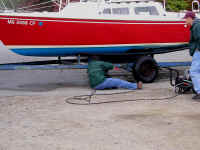 Ted went to work with his pressure-washer ...
... while I'm thinking, "Where do I start?"
Coiling the lifeline and stripping down the rigging. (Note the new hat: Barbara had it made for me at the Topsfield Fair on Columbus Day. "Chip Ahoy" embroidered beneath a red-hulled sailboat!) There was a lot more ahead than I'd anticipated ...
Omigod, I forgot how much rigging I added to Chip Ahoy this spring: lazy jacks, boom vang, single-line reefing, roller-furling, topping lift, adjustable backstay, deck organizers and all lines aft to the cockpit! Will I remember how to put it all back together next spring?!?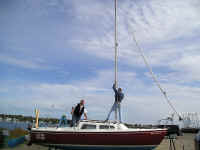 Finally we got the boom off and were ready to lower the mast. Wally and I worked on deck ...
NEXT
It's never-ending ... but Sailing Season '04 is over along with all the fun