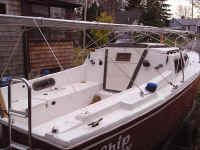 With the rope skeleton completed over the mast all the way aft, it was time to cover the boat with its tarp. (Nov. 11, 2004)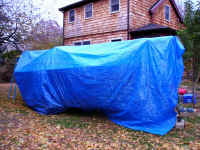 Chip Ahoy and its mast fully covered for the winter (view from the starboard bow).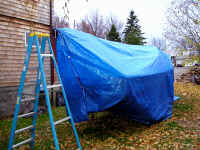 Chip Ahoy and its mast fully covered for the winter (view from starboard aft). (Nov. 11, 2004)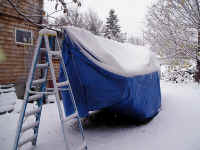 The design test came quickly. I covered Chip Ahoy none too soon on Thursday afternoon (above) it turned out, as winter arrived Friday morning (yesterday) when our near-record first snowflakes of the season began coming down. This very early and ongoing storm is still adding to the 5"-plus that has already fallen. It reminds me of the timing for the St. Patrick's Day Storm last March. (Nov. 13, 2004)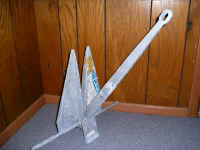 Last year I used a Danforth 14 pound anchor with 10 feet of 1/4" chain and 200' of 5/16" rode aboard Chip Ahoy. I added anchor chocks on the foredeck, but that caused problems with the jib sheets when tacking: they'd sometimes get tangled in the anchor when crossing the deck. (Nov. 25, 2004)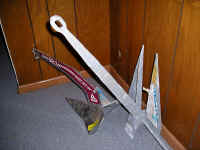 To rectify this, earlier this year I added a bow anchor-roller and abandoned the deck chocks. At that time, in preparation for my cruise up the coast of Maine, I increased the anchor chain from the previous 10 feet of 1/4" chain to 20 feet of 3/8" chain; the 200 feet of 5/16" rode with 3/8" rode. I replaced the deck pipe with a larger one to accept the heavier chain. I reluctantly drilled a hole through the anchor's shank for the bow roller quick release pin to slide through to secure the anchor to the roller, but still was never satisfied with how the anchor was secured.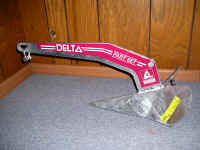 I just bought a new 14 pound Lewmar Delta (Simpson-Lawrence) Fast Set anchor that I'll install in the spring. It's supposed to be a superior anchor with better holding power on most bottoms, and I'm hoping I can rig it to ride better on the bow. At least the fluke and anchor is one-piece so the flukes won't bounce with the waves like the Danforth's. (Nov. 25, 2004)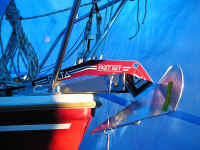 After much discussion on the Sailnet C-22 list, it was suggested that I try mounting the anchor and see how it rides. Today I tried it and was struck by how well balanced its weight is, how it just wants to sit on the deck. Even with a shorter shank than the Danforth, still I have about an inch of space before its tip touches the hull. (Nov. 26, 2004)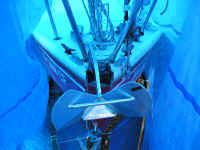 The roller intentionally offsets the perpendicular to avoid the roller-furler or forestay, and keeps the rode/chain in line with the deck pipe, so the perfect angle is off -- but so what. Again, despite my reluctance, in the spring I just might drill a hole through the anchor shank for the roller-pin. But, will my roller-furler drum clear the shank? (Nov. 26, 2004)
NEXT
It's never-ending ... but Sailing Season '04 has ended and winter has arrived