Spring officially arrived yesterday afternoon despite a high temperature clawing its way only into the low 30s (low-20s last night), with 33 mph winds dropping the wind-chill factor significantly. I had a new trailer hitch mounted on the "new" '99 Blazer earlier this week in preparation for moving the boat. I filled the trailer tires using Wally Riddle's small 110-volt air-compressor and today pulled "Chip Ahoy" from alongside the house (Wally's "Carpe Diem" -- for sale now that he owns an Alarion 28 -- remains parked there in the rear) to out front, its usual early-spring location. (Mar. 21, 2006)
I'm almost sure it's safe to finally uncover "Chip Ahoy" for the coming spring season and let the work begin again. The new PVC pipe skeleton frame worked great, though this past winter didn't bring a whole lot of snowfall and overall was relatively warm. The first storm proved the frame and tarp worked; the next big snowfall was supported well and eventually slid right off the cover as it built up.
Uncovering Chip Ahoy -- Season 2006 is Officially Launched!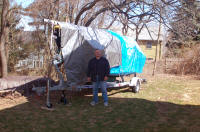 We decided that today here was the day, the official first day of Season '06. With a temperature in the 60s and the 70s forecast for tomorrow, Wally Riddle came over and we began uncovering our boats. That's "Chip Mate," the dinghy, covered alongside to the left of "Carpe Diem," on pallets. (Mar. 30, 2006)
Wally pulled "Carpe Diem" forward in the side yard, as he has a potential buyer for it coming by over the weekend. Then the unveiling after another winter began.
"Carpe Diem's" first tarp removed: note the PVC pipe frame beneath. It held up great through the winter.
"Carpe Diem" revealed for the 2006 season.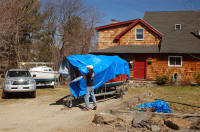 Next came "Chip Ahoy's" turn, yahoo! Duly note my C22 Midwinter Regatta t-shirt, worn to honor the occasion, and of course the official "Chip Ahoy" ballcap! One must be prepared and properly attired for such auspicious events.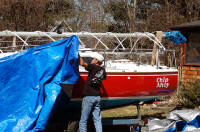 Yours truly relieving "Chip Ahoy" of its winter coat. (I'm really impressed with Wally's PVC pipe frame design; it did a great job all winter of supporting the tarps.)
"Chip Ahoy" unveiled for Season 2006.
Voilà! At last, let Sailing Season 2006 begin to roll! (Mar. 30, 2006)
NEXT
It's never-ending ... but Sailing Season '06 has begun
!