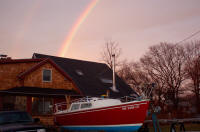 April First, April Fool's Day: Daylight Savings Time begins tomorrow and the days are getting longer already, the past few days have been unseasonably warm (60s-70s) -- then after today's late afternoon shower, we were greeted by a (double) rainbow over "Chip Ahoy"! (Apr. 1, 2006)
I hope this is a good omen for the season ahead.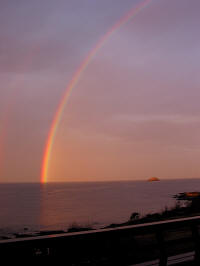 Wally Riddle (c22 - "Carpe Diem" / Alerion 28 - "Rocinante") caught the double rainbow from his home as well. He and his wife live in a house overlooking Nahant Bay, and have added these shots, taken at the same time. That's Egg Rock out there on the right.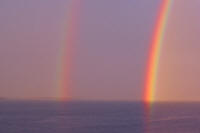 Nahant Bay is between the peninsula of Nahant and Swampscott then Marblehead on the opposite coast to the north. The dimmer second rainbow descends behind (or is that in front of?) Marblehead.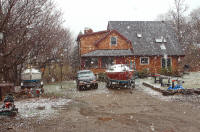 Oh well, it was too good to be true -- but nothing to be concerned with. Today's snow delivered the largest flakes I've ever seen, each the size of a quarter gently floating down, but it was just a passing flurry. (Apr. 5, 2006)
On April 26 I began the forward hatch installation project, cutting the hole in "Chip Ahoy's" perfectly good deck.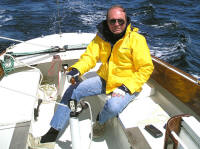 I took a day off from the hatch project to help Wally Riddle bring his new Alerion 28, "Rocinante," around Marblehead and down along Swampscott, over to Lynn from Salem. (Apr. 28, 2006)
I no sooner got the forward hatch secured and down (with only a granite cobblestone to hold it down until the hatch dogs arrive) when Monsoon Season '06 struck the next day on May 8th, eight days of wind-driven torrential rainfall, "The worst flooding since the 1930s." One band of offshore rain after another relentlessly battered the northeast coast of Massachusetts along the North Shore, New Hampshire, and southeastern Maine nonstop until the afternoon of the 16th, just before sunset. (May 14, 2006)
We'd planned to launch Vaughn McGrath's "French Curves" last Monday, but of course were prevented by the monsoon weather. He got it in the water yesterday, and this morning he and I brought his mast down to Tucker's Wharf, where he had his boat tied up. (May 20, 2006)
With the eventual help of his dependably-tardy buddy, Kevin, in the early-afternoon we raised his mast. Wally's "Rocinante" is in the water for the season, now Vaugh's "French Curves" is launched, stepped and ready for Sailing Season '06. All that's left is getting "Chip Ahoy" ready and launched one day soon, I hope. It's been a tough spring.
NEXT
It's never-ending ... but Sailing Season '06 has begun
!