On the mooring in Marblehead's Westside Dock mooring area.
Harbor Patrol: Shortly after arriving on Chip Ahoy this morning (Sunday, July 13, 2003) for my first sail, suddenly there were two swans within reaching distance from the starboard side of the cockpit, checking out the new arrival. By the time I had presence of mind to grab my camera, they had swum off ... but I saw it as a good omen to things to come!
Chip Ahoy single-handedly approaches Misery Island in Salem (Mass.) Sound, my destination for the first day of sailing and the site of many good and bad (it's not called Misery Island for nothing) experiences a couple of decades ago when I did my last sailing. (Two of our crew back then drowned there late one night.)
Approaching Chip Ahoy at its mooring off Marblehead's Village St. Dock in Salem Harbor.
Chip Ahoy at its mooring. (Note the other C22 off my stern.)
Chip Ahoy at its mooring.
Chip Ahoy on the water's first official guest, dear old Dad aboard for inspection and a little refreshment. (Jul. 15, 2003)
Oh oh, more problems! I found that I was unable to tighten the rudder clamp, so I took it home and disassembled it, finding the clamp had seriously gouged the rudder blade.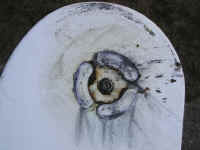 I had to fill these gouges with MarineTex, sand it down on the blade, and reassemble with new washers, a lock washer, and double-nuts to keep the center bolt from loosening and "walking out." I also drilled a hole through the lower pintle for a cotter pin and added a washer above it to keep the rudder from lifting out.
My buddy Ted Tripp and I took Chip Ahoy out for a day's sailing, so there was finally someone aboard to take a photo of yours truly at the helm. (Jul. 29, 2003)
NEXT
It's never-ending ... but the good times have arrived!