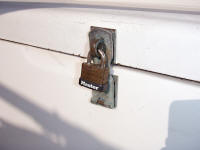 After recently reading of a disaster when another Catalina 22 tipped over, one of the cockpit lazarette hatches popped open and filled with water, and the boat quickly sank, I decided to do something about my setup. I have small locks to secure the lockers when I'm not onboard; I've always just removed them as soon as I'm back aboard, open the hasps for easy access to the interiors, and hung the locks back on their respective latches. This has left Chip Ahoy vulnerable to the same risky situation which sank that other boat.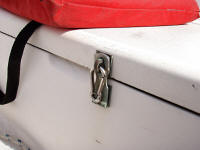 Yesterday I picked up a pair of small carabineers which I now use to replace the locks as soon as I remove them. The carabineers can be easily and quickly removed, but otherwise will hold the lazarette seats tightly closed. (Jul. 10, 2006)
Hailstones from the storm of July 11, 2006. An apparent tornado touched down on Marblehead Neck, but a couple of miles away, that wiped out most of the Flying Scot fleet during its national regatta hosted by the Corinthian Yacht Club. On the Neck, hailstones were reportedly the size of baseballs!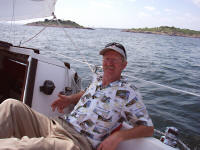 Today my longtime buddy, Michael -- one of our crew who took "Idle Hours II" down the East Coast to the Florida Key in 1978 -- visited from his home now in Arizona. We took Chip Ahoy out for a sail in perfect conditions, rounding Great and Little Misery Islands (in the background) in record time for Chip Ahoy and me, coming back through the channel between them and Bakers Island. Thanks Michael for that great dinner afterward that you treated Barbara and me to at The Landing, overlooking Marblehead Harbor. (Jul. 14, 2006)
Yesterday I brought Chip Ahoy over to the Beacon Street boatyard (Marblehead Trading Company). I had it hauled-out to have the keel checked out and the bottom painted before my annual cruise. (Jul. 19, 2006)
The refurbished keel definitely needs "touching up" with some epoxy. I'm also having the yard replace the keel hanger and pin, and add the CD spacer kit -- both of which I've had "in stock" for a couple of years. (Continued below and at further link.)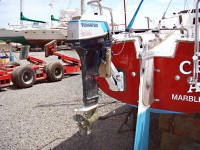 While I'm at it -- upon the opinion of too many whom I respect -- it's time to replace the temperamental 1985 Tohatsu 9.9 hp outboard. As they've pointed out, strenuously, the way I use my boat, my life depends on it to work. I've got a new Honda 8 hp four-stroke coming down later today. Ouch on the checking account -- but I'm hopefully buying at least peace of mind for my upcoming extended cruise down to the Cape and through the Cape Cod Canal and its intimidating current.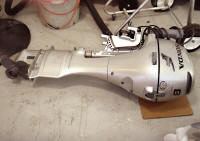 The new Honda 8hp four-stroke, sitting in the shop at Ryan Marine Services -- mine now, for $2,373.00 including tax, ouch -- almost what I paid for boat, motor, and trailer a few years ago! (Jul. 19, 2006)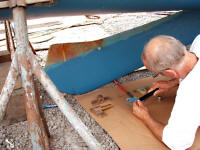 While hauled out at Marblehead Trading Company's Beacon Street yard, I'm having the keel hanger and pin replaced. Here, yard manager Tommy is in the act of replacing it. Note the score on the keel from forgetting -- just once! -- to loosen the keel locking bolt. (Jul. 20, 2006)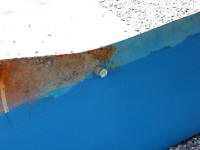 The old (and not too worn) keel pin. Tommy's going to have to knock it out to replace it.
NEXT
It's never-ending ... but Sailing Season '06 has begun
!