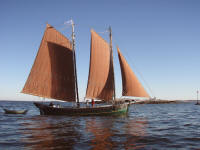 I took Chip Ahoy out singlehanded for another fine day of autumn sailing during this Columbus Day weekend. Under a virtually cloudless sky the wind was SE at about 5-10 mph during the early afternoon; the temperature was in the low-70s. It was jeans, boat sandals with socks, and a t-shirt for most of the sail -- though a sweater was added later in the afternoon. I pretty much shot out between Baker's and Misery Islands, came around the leeward backside of Misery almost becalmed (the "inside" route is a narrow and tricky "foot trail" if you know the rock obstacles with their crashing breakers -- trickier or deadly if you don't). Coming out of Misery's lee, the wind had died down, eventually to the predicted "light and variable" before I made it back to my mooring under motor. (Oct. 8, 2006)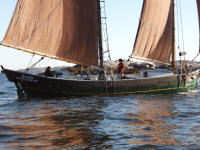 As I left Misery Island in my gentle wake, I spotted an old gaff-rigged schooner in the distance coming up on my stern and luffed sails to let it catch up and get a better look at her, the Maine out of Gloucester. I've always been an admirer of schooners, especially since being a part-owner of Yankee Girl back in the early-80s, the 60-foot Marconi-rerigged Alden built in 1926. As we pulled alongside each other off Coney Island Rock and Ledge (submerged at high tide), I was treated to a saxophone solo by the man amidships in the tri-corner hat and red jacket playing his heart out while the woman at the helm held their course. There was also a young girl aboard (daughter?), apparently directing the orchestra.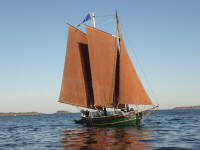 Definitely a pretty boat, and an almost ghostly reminder of New England sailing lore and history. (The sun's southbound declination as it sets hereabouts lately has become dramatically apparent.)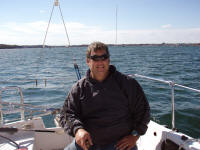 It was a bit on the nippy side with a good breeze out of the SW at about 12-15 mph yesterday when John Graichen ("Malacass") and I took Chip Ahoy out for what will likely be its final sail of the 2006 season. (Oct. 15, 2006)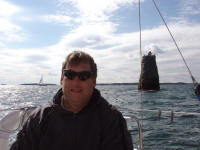 Passing the Bowditch Ledge tower marker on our way to the channel between Misery and Baker's Islands.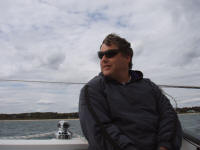 It was great to have John aboard, someone else knowledgeable of Catalina 22s and the area in which we were sailing.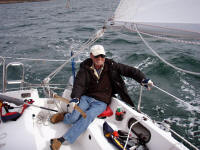 Rounding the lee of Misery Island and heading back, we tacked a number of times trying to claw our way directly into the wind and back to the mooring. After about an hour making almost no progress despite our best efforts, and with hungry thoughts of the hamburgers and corn-on-the-cob waiting to be grilled once we reached home, in the end we dropped sails and motored the rest of the way to Chip Ahoy's mooring. Within the next day or two I'll bring Chip Ahoy over to the boatyard for hauling-out. (Oct. 15, 2006)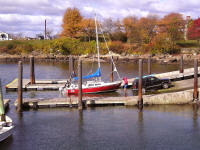 Trailering-out (click back there to see much more) at the end of Season 2006. (Oct. 26, 2006)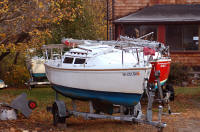 Yesterday we trailered-out John Graichen's "Malacass" (foreground) at Winter Island, aptly named! But due to the starboard-side fender on his trailer rubbing against its wheel and smoking rubber, we decided that he bring it over to my place for the night, instead of him trying to make it home to New Hampshire. John plans to be back today to fix his fender/wheel problem. (Nov. 5, 2006)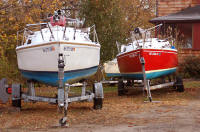 Going outside early this morning, I realized that I'm growing a new Village Street C22 Fleet, with three already stored right here in my yard! ("Malacass" in the foreground, "Chip Ahoy" alongside, and Wally Riddle's "Carpe Diem" in the background.)
NEXT
It's never-ending ... but Sailing Season '06 has ended -- bring on '07!