"Red at night, sailor's delight," the old saying goes. But this dramatic red sunset is obviously deceiving with the remnants of Hurricane Noel charging up the coast at us, due to strike tomorrow. The National Weather Service has declared a High Wind Warning and is predicting 13-18 foot seas. (Nov. 2, 2007)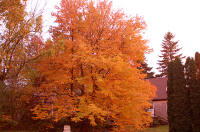 With winds and gusts here in Marblehead predicted to come close to or exceed hurricane force before the ocean storm moves north into the Gulf of Maine, with heavy downpours, this is probably the end of autumn foliage just as it peaks late. Tomorrow there will likely be bare limbs everywhere, so I thought I'd get ready for some before-and-after shots.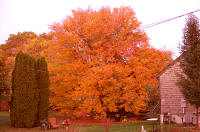 Barbara's maple tree in her yard I expect will be a perfect example. (Nov. 2, 2007)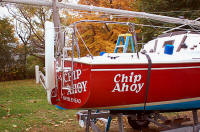 Early this morning, with the High Wind Warning increasing, the ocean storm getting closer up the coast, I decided to strap Chip Ahoy to the trailer. (Nov. 3, 2007)
I removed the new IdaSailor rudder and stored it inside on the porch; decided I didn't need a windvane sticking up there in hurricane force wind. I was going to remove the ladder too, then decided to just tie it at four points so it won't move but will enable me to climb aboard if the cockpit needs to be unplugged of leaves during the storm.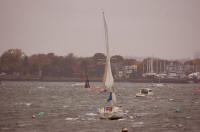 I awoke from an afternoon nap with the sound of a sail flogging -- I thought it was a dream, but it persisted. I looked outside but could see nothing that could be making the sound. I went outside and it sounded like it was coming from behind my neighbor's house down toward the harbor. I decided to investigate, drove down to the town dock at the end of the street. Sure enough, another roller-furled sail had let loose; in this blow it wasn't surprising. This time, there was nothing I could do about it, or so I thought . . . (Photos were taken with an AF28-300 mm telephoto lens at full zoom at about 2:30 pm.)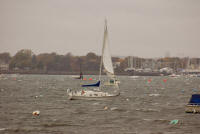 I drove out to the town cemetery and checked John Graichen's C22 "Malacass," just off the shore, then returned home, returned Vaughn McGrath's phone call (I'm supposed to help take down his mast tomorrow). I mentioned to him the boat in distress and he asked me to describe it, thought it could be his friend's. I told him I'd taken a few photos, posted this and the one above here, suggested he take a look. Sure enough, it was Kevin Maguire's boat! Small world indeed: First I hear the sail flogging from way atop the hill -- should have been too far, then I know someone who knows who owns the boat in distress -- and just happened to need to speak with him immediately!
Vaughn called and reached Kevin then called me back; told me Kevin was on the way, asked me to go back down and make sure Kevin came equipped with a PFD -- I brought one of my SOSpenders in case he hadn't. I got down to the dock about a minute before Kevin. He came down suited up in full foul-weather gear including his Sou'wester hat and prepared with his own life-vest. Watching him head into those waves and wind, the Zodiak's bow if not the entire inflatable flying up and out of the water, I decided to stick around and keep an eye on him. (About 4:00 pm)
He had a struggle getting that damaged genoa down, but eventually accomplished his task and returned safely about an hour after going out. By then his wife had just arrived. Back ashore, Kevin told me the sail suffered some damage for sure, he had a hard time cutting it free. After thanking me, I headed back up the hill to home. Another good deed done by the Chip Ahoy Coastal Boat-Rescue Mission!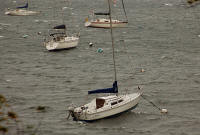 Between spotting Kevin's boat in distress and meeting him down at the dock, I checked out "Malacass" for John Graichen, moored off the town cemetery. Its mooring seemed to be holding well, the boat weathering the storm in good shape. I called and left a message for John that all seemed well. (Nov. 3, 2007 - 2:45 pm)
NEXT
It's never-ending ... so onward and forward to Sailing Season '08!