This morning between rain showers and downpours I added the plastic transom trim piece sent to me by discussion group member Russ Hauser. This piece of trim was missing before I ever saw the boat, when it was still named "Take Five." Amazingly the screws were still in the transom where it was to be fastened, and the trim's holes lined up perfectly. I just removed the screws then fastened on the trim; it took about ten minutes. Another nice little finishing touch for appearance. (May 2, 2008)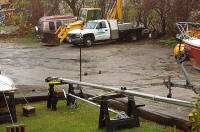 It looks like typical New England spring has arrived, aka, "monsoon season." How much has it rained for the past few days? A pair of mallard ducks has taken up residence in our yard, claimed its own little pond in front of Chip Ahoy! (May 4, 2008)
It looks like time to replace the spreader boots. The small line and block on the starboard side spreader is Chip Ahoy's flag/radar reflector halyard. (May 6, 2008)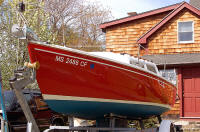 Yesterday I began a good cleaning of the boat, both the hull and topside. Last season I never got to it, after breaking my shoulder in mid-May and being sidelined until late July. Chip Ahoy needed a good scrubbing to get rid of two year's accumulation of dirt and nearly embedded mildew, which I completed this afternoon. Tomorrow I'll begin experimenting with the Poli Glow polishing process instead of using wax. (May 6. 2008)
Go to:
Applying a Poli Glow Finish
After giving up on the Poli Glow treatment for the hull, I polished and waxed instead. The results were quite satisfying, a marked improvement. (May 11, 2008)
See:
The Poli Glow Treatment, and Back to Polish and Wax project
I also unbagged and finally spread out the new Ullman mainsail for closer inspection. Everything's there and looks fine. The battens fit their pockets perfectly. It looks ready to go.
The new Taylor spreader boots arrived this week. I removed the old ones (see above) and replaced them this morning. While I had them off, I bent over the heads of the cotter pins beneath so they won't wear through the new ones. (May 18, 2008)
Today I also completed the polishing and waxing job. Almost two weeks of tedious grunt labor made for a big improvement. Chip Ahoy is looking quite presentable for the start of another season.
This morning I completed the Forward Hatch Screen Project. It came out very well. (May 24, 2008)
To my surprise, I discovered earlier this week that Memorial Day Weekend was coming up, sooner than the traditional last weekend in May! (We stepped the mast on Vaughn McGrath's "French Curves" yesterday across town in Marblehead Harbor.) Once again, Chip Ahoy won't be in the water for the 3-day "start of summer" holiday weekend. Instead, I'm finishing up the details and still getting ready. I still expect to launch before the end of May, sometime next week.
This morning, after attaching the screen, I started on the little cabin carpeting job.
For years I've used a piece of scrap carpet tossed inside the companionway to catch most of the wet and/or dirty first footsteps, but it was intended to be temporary -- five years ago. It was in pretty sorry shape, having become more of a nuisance it was time for it to go. I bought a rubber-backed runner carpet then cut it to fit the cabin sole.
Its rubber backing makes it non-slip; its indoor/outdoor attribute should make it durable. The choice of color was limited: This or nothing. Good enough for function. Forward of the carpet is where I stow the Igloo cooler during my cruises, a perfect fit.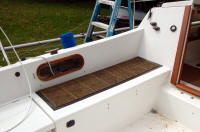 The leftover remnant makes a good carpet at least while I'm working on the boat, tracking dirt and mud aboard when climbing up and down the ladder from my dirt lot. If I can find space to stow it, I may keep it aboard as a dockside "welcome mat" for the same purpose.
NEXT
It's never-ending ... but Sailing Season '08 has arrived!