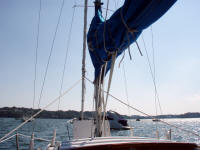 Another view of the main sail and boom. The roller-furled genoa is tied tightly, separately, with two lines. It should not be able to unfurl on its own . . .
I can't think of more that I can do to make sure of that. (Port side jib sheet.)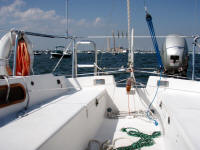 I was going to remove the IdaSailor rudder, but while working I had NOAA weather radio on, and it sounds like now we're going to get wind gusts up to 45-55 mph tomorrow night, not hurricane strength. Nothing to sneeze at, but I think as a foil, the rudder is fine staying in place, its tiller tied off as always port and starboard. I left the throwable ring and line attached, to see how it handles the weather. I hope I don't lose it, don't expect to, but am curious. Before leaving Chip Ahoy, I ran a line of duct tape over the small gap between the top cribboard and the sliding hatch, to keep the rain out. My boat should be fine. Amazing how many other boats out there aren't being touched. (Sep. 5, 2008)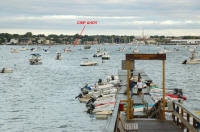 Tropical Storm Hanna passed over us in the middle of last night, and wasn't bad as such storms go. We had some sustained bursts of torrential downpours that came and went, but the wind gusts didn't get much over 40 mph. This morning at 6:30 when I took these photos the wind was WNW at 10-15 with steady gusts to 30. (Sep. 7, 2008)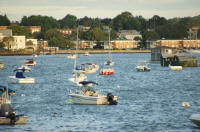 From above the dock, Chip Ahoy seems to be the way I left it; the others boats nearby also seem to have ridden out the blow without any damage. Even the dinghies tied to the dock are secure but need bailing out. This photo and the one below were taken with my Nikon D50 DSLR with its AF28-300mm zoom lens.
A closer view of Chip Ahoy. The wind is moving boats all around on their moorings but everything looks fine. (Sep. 7, 2008)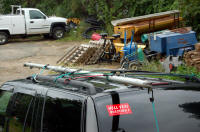 Chip Ahoy's "new" boom for next season. After learning late this past spring that the boom I've been using was about 4" too short, with a pointer from Pete Skalski ("Liberty Pass"), a discussion group member, I located another for $25. It happened to be relatively nearby, down in Dartmouth on the Massachusetts south coast. The owner arranged to bring it up to his home in West Roxbury, just outside Boston, much closer to Marblehead. I picked it up and brought it home last night. (Sep. 12, 2008)
While preparing for the recent tropical storm, before leaving Chip Ahoy I duct-taped the gap between sliding hatch and top cribboard. The trick, I learned, is to use better quality duct tape. While it kept out the torrential downpours -- within the immediate cabin interior and especially the step just inside -- removing it created a mess. (Sep. 12, 2008)
It came off in strips and pieces, leaving much of its adhesive stuck to the boat's surface. I'll bring some wax-and-tar remover aboard the next time I go out to the boat, to clean off the residue.
The wax-and-tar remover worked perfectly, removing the residue completely without damaging the finish. (Sep. 20, 2008)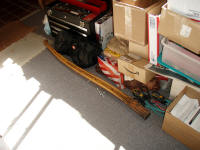 John Graichen came by Saturday morning and bought my old rudder and refinished tiller. I reminded him that it had at least a dozen coats of varnish on it, my labor alone was worth the price of the rudder and tiller combined. His buddy said it was too good for Malacass, it'll be the nicest thing aboard! (Sep. 20, 2008)
Yesterday, my buddy David and I took Chip Ahoy out for our traditional annual sail and cookout later. It was a beautiful last day of summer, sunny and in the low- to mid-70s, though not much of a breeze.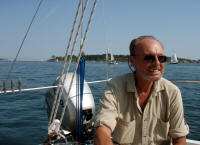 Me at the helm after going out the Eagle Island route at last to Bakers Island then around the back of Misery Island (in the background) and past the cove filled to the max with moored boats, before heading to the mooring and home for our traditional cookout just before sunset. (Sep. 21, 2008)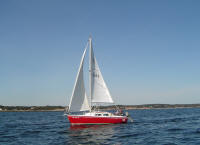 The Columbus Day Weekend Rendezvous and Photo Shoot with John Graichen and Malacass. (Oct. 12-13, 2008)
NEXT
Intro | Page 1 | Page 2 | Page 3 | Page 4 | Page 5 | Page 6 | Page 7 | Page 8 | Page 9 | Page 10
Page 11 | Page 12 | Page 13 | Page 14 | Page 15 | Page 16 | Page 17 | Page 18 | Page 19 | Page 20
Page 21 | Page 22 | Page 23 | Page 24 | Page 25 | Page 26 | Page 27 | Page 28 | Page 29 | Page 30


Page 31

| Page 32 | Page 33 | Page 34 | Page 35 | Page 36 | Page 37 | Page 38 | Page 39 |

Page 40




Page 41

| Page 42 | Page 43 | Page 44 | Page 45 | Page 46 | Page 47 | Page 48 | Page 49 | Page 50
Page 51 | Page 52 | Page 53 | Page 54 | Page 55 | Page 56 | Page 57 | Page 58 | Page 59 |

Page 60




Page 61

| Page 62 | Page 63 | Page 64 | Page 65 | Page 66 | Page 67 | Page 68 | Page 69 |

Page 70




Page 71

| Page 72 | Page 73 | Page 74 | Page 75
It's never-ending ... but Sailing Season '08 is reaching a close