I got Chip Ahoy unloaded, emptied, moved everything into the house for the winter over a week ago, then the Arctic cold front moved in. With temperatures dropping into the mid-teens for a week, climbing into only the mid- to high 20s during the day with strong winds, I put off covering the boat until it warmed up a bit -- and hoped it didn't snow in the meantime. Today is as good as it's going to get for a while, I suspect, reaching the low-40s by early afternoon. (Nov. 24, 2008)
I covered the furler, the mast's anchor light at the bow end, and its deck light at the spreaders with remnants of tarps and bungie cords. The boatyard laid the mast bass-ackward and upside down this time after unstepping it, so I wanted to insure everything was water/ice-proof. Next came the PVC pipe skeleton frame.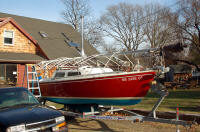 Chip Ahoy is ready to be covered with the new tarps. Tonight heavy rain is expected to commence and continue through tomorrow with winds gusting 55-60 mph. At least it's supposed to remain in the 40s for the next few days, above freezing overnight. (Nov. 24, 2008)
Before quitting on Monday evening (evenings come so early now, like 4 pm!) I moved Chip Ahoy to its winter space alongside the house, freeing up the parking (for the inevitable snow-plowing) in front of the house. I got the first tarp on and tied down in a few spots. Before going to bed, after listening again to the weather, flashlight in hand I went back out and secured the one tarp more permanently. The coming torrential rain didn't bother me, but gale force winds were predicted beginning that night and throughout the next day, building to gusts of 60-70 mph the next day (yesterday). This meant the tarp had to be tied down better, using more lines to prevent grommets from ripping out. (Nov. 26, 2008)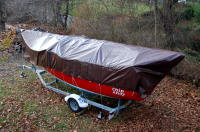 New tarp number one held impressively through the easterly blow, though the house blocked the worst of the wind. Today I completed the job with new tarp number two. Before covering with the tarps, I separately covered the protruding roller furler drum and mast anchor light (and the deck/steaming light) individually with remnants from old tarps, using bungie cords to secure them.
The new tarps are shorter than what I've used in the past, leaving some of the hull and the trailer uncovered, which shouldn't be any problem.
Chip Ahoy, fully covered for the winter of 2008-09. The 2008 Season book is officially closed, behind me with nothing more to think about -- but Sailing Season 2009 is ahead! The "To-Do List" awaits and grows, the planning begins . . . (Nov. 26, 2008)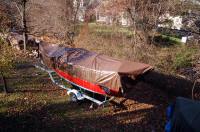 Another view from above using the new Sigma wide-angle lens on my Nikon D50 DSLR. (Dec. 2, 2008)
What remains of the town dock down the end of my street. Moorings are empty, the floating docks were pulled in mid-November, the launch service ended way back in October. It's pretty lonely looking out there and will be for months to come. (Dec. 3, 2008)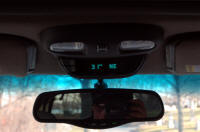 Today I spent all morning and into the afternoon photographing John "Chief Hiawatha Frostbite" Graichen taking his last sail of 2008 (on his birthday) before trailering "Malacass" out and home to Nashua, NH for the winter. The photo on the left is a self-portrait showing the temperature at 9:30 this morning, when I first started looking for him at his mooring off the town cemetery. (Dec. 6, 2008)
-- SEE PHOTOS OF THE EVENT --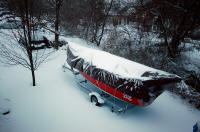 The first real snowstorm of 2008-09 started at just after noon yesterday and, at 11:00 pm tonight flurries are still coming down. (Dec. 20, 2008)
-- SEE MORE PHOTOS --
Preparing for my coming spleen surgery, I picked up a 'new' Dell Latitude 620 laptop on eBay and set it up for WiFi networking with my office PC. After opening an account with LogMeIn to remotely work from the office computer I needed too insure that the signal will reach across the yard to Barbara's house, where I'll be spending some time recuperating. I moved up my schedule for Sailing Season 2009 and sprung for the 5MileWiFi antenna/booster system, which received high reviews in this month's issue of Practical Sailor. In this photo it's hooked up to the laptop; the improvement in signal is impressive. (Jan. 14, 2009)
The 5MileWiFi antenna with it's 25 feet of coax cable, temporarily clamped to the kitchen table, its signal booster's power and signal cables plugged into two of the the laptop's four USB ports.
Spring has at long last arrived! I'm recovering nicely from my spleenectomy surgery, though still sore. After clearing out the lot over the weekend of winter debris and mounds of plowed dirt, I moved Chip Ahoy this morning from alongside to out front of the house, ready to be uncovered and for the 2009 projects to begin. (Apr. 6, 2009)
-- More of the moving --
NEXT
Intro | Page 1 | Page 2 | Page 3 | Page 4 | Page 5 | Page 6 | Page 7 | Page 8 | Page 9 | Page 10
Page 11 | Page 12 | Page 13 | Page 14 | Page 15 | Page 16 | Page 17 | Page 18 | Page 19 | Page 20
Page 21 | Page 22 | Page 23 | Page 24 | Page 25 | Page 26 | Page 27 | Page 28 | Page 29 | Page 30


Page 31

| Page 32 | Page 33 | Page 34 | Page 35 | Page 36 | Page 37 | Page 38 | Page 39 |

Page 40




Page 41

| Page 42 | Page 43 | Page 44 | Page 45 | Page 46 | Page 47 | Page 48 | Page 49 | Page 50
Page 51 | Page 52 | Page 53 | Page 54 | Page 55 | Page 56 | Page 57 | Page 58 | Page 59 |

Page 60




Page 61

| Page 62 | Page 63 | Page 64 | Page 65 | Page 66 | Page 67 | Page 68 | Page 69 |

Page 70




Page 71

| Page 72 | Page 73 | Page 74 | Page 75
It's never-ending ... but Sailing Season '08 has ended!