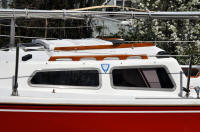 Today I completed my winter indoor project by installing the final window and frame. (Apr. 11, 2010)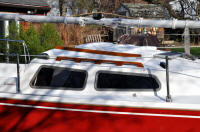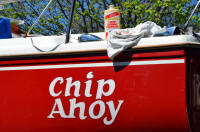 After seven years, it was time to reletter Chip Ahoy's name. I started on it today. (Apr. 24, 2010)
Since deciding last fall when I had the bottom done that I needed to reduce weight aboard to trim up the waterline especially at the stern, one suggestion was to replace the two 6-gallon gas tanks with a 3-gallon tank or two. My better solution is to just keep the two current tanks half-full -- save the cost of two new smaller tanks (at $25 each) and keep the option of larger storage capacity when desirable.
Swapping tanks when necessary has been a bit of a hassle, so today I solved this nuisance. I added a transfer fuel hose from the spare starboard tank over to the outboard's connector on the port side. Why didn't I think of this before?
A few connectors and hose clamps, a short length of fuel hose run beneath the cockpit sole, and now I'll just unplug the empty tank, connect the full tank's hose. (Apr. 25, 2010)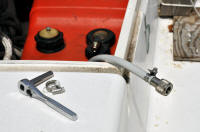 I'd hoped to finish the relettering project today, outline the letters I painted on yesterday, but rain was forecast starting around noon with showers through Tuesday. Instead, I worked on the above hose improvement then mounted the replacement compass bracket. Ironically, it didn't rain at all, in fact was mostly sunny all day. Before covering the boat for the winter, I suspended the compass to keep its weight off its light wiring. (Apr. 25, 2010)
Before mounting the new bracket and compass, I cleaned, polished and waxed the bulkhead around and behind it while it was easier to get at. A couple dabs of 3M 4200 in the two screw holes, a few twists of the screwdriver, and the repair was complete. (Apr. 25, 2010)
Today I finished relettering Chip Ahoy, adding a maroon outline to the white letters. (May 1, 2010)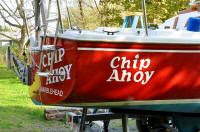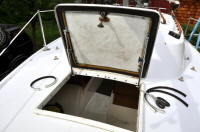 Late last season I noticed some light sneaking through the weatherstripping while dogging down the forward hatch; no leaking yet but no longer water-tight. Apparently the weatherstripping had compressed with use since 2006 when I installed the forward hatch. The fix was quick and simple enough -- I just added another strip of weatherstripping over the old material. When I dogged the hatch down from below, the seal was very tight -- definitely water-tight again.
While down there, I hauled out the spare anchor chain, 20 feet of 1/4" galvanized (photo on right), from beneath the v-berth and stored it out in the shed, alongside a bag of excess 3/8" chain I replaced a few years ago. This is the second (and happenstance) step in this year's goal of reducing weight aboard -- eliminating a good thirty pounds right here. (May 7, 2010)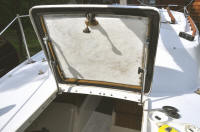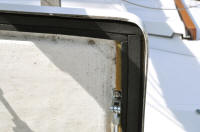 NEXT
It's never-ending ... but Sailing Season 2010 has arrived!