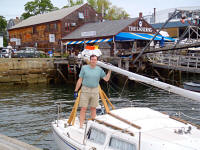 This morning Vaughn McGrath picked up his mast stored alongside my house over the winter. We brought it down to the town dock on Marblehead Harbor, where he had "French Curves" tied up to the town dock. When we were ready to raise it his other "friends" were again no-shows. He enlisted a young guy who gave us a hand, Ed from Melbourne, Australia, here visiting his girlfriend. Vaughn's going to take them out for a sail tomorrow.
Vaughn added a pair of deck cleats amidship on his C22 this year, something I've intended to do for years but never remember until I need to tie-off a spring line. This afternoon I added a pair to Chip Ahoy. (May 28, 2011)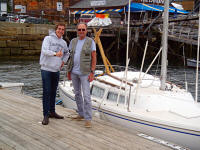 Sunday, Memorial Day Weekend: Instead of being out sailing I spent today bringing back Chip Ahoy's hull from the dead. The photo on the left is before polishing; on the right, after polishing and wax. (May 29-31, 2011)
– See "Rescuing the Red" –
Today I cleaned up and repaired the rudder: Replaced the gas strut, the clam cleat and block, and its pull line. Getting that new gas strut to compress to install was a bear — it wouldn't budge. (Jun. 3, 2011)
– See Repairing the Rudder –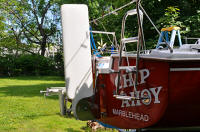 Over this weekend I compounded and waxed the topsides by hand; trunksides, coaming, toe rail, and the chrome (stanchions, pulpits, bow anchor roller, cowl vents, etc.). The 37-year old gelcoat oxidized long ago, needs to be brought back to life each spring. (Jun. 5, 2011)
– See Revitalizing the Topsides –
Yesterday I finished cleaning and waxing the cockpit, cleaned the life ring and the five fenders, attached the new mast VHF antenna and the new backup stern pulpit VHF antenna, installed the two 12v batteries, and began loading the boat. (Jun. 8, 2011)
– See Cockpit Cleaning –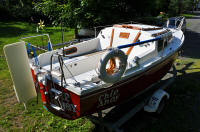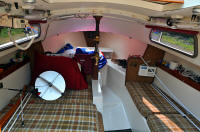 All loaded up and ready to go. It was a hot one today – about 100° and high humidity. With the big launch day scheduled for tomorrow, it was a sweaty day of up and down the ladder tied alongside with arms full too many times to count.
Tomorrow Wally Riddle and Michael Sullivan are due to arrive at about 9:00 am. We'll trailer Chip Ahoy down to Riverhead Beach, get the mast up, then I'll spend the afternoon rigging everything. (Jun. 9, 2011)
Left, today we got Chip Ahoy ready for launch on tomorrow morning's 7:30 high tide. The weather conditions were perfect: High-70s, low humidity, and partly cloudy. (Jun. 10, 2011)

Right, Chip Ahoy is back in the water, launched at 7:45 this morning under cloudy skies, cool temperature, and occasional light rain. (Jun. 11, 2011)

– See Launching 2011 –
Chip Ahoy on its mooring (Jun. 15, 2011)
NEXT
Sailing Season 2011 has arrived!