Chip Ford's 1974 Catalina 22 Restoration Project
Sail #3282 l Marblehead, Massachusetts
The never-ending project to fill my hole in the ocean while bailing it out
Sailing Season 2013 has begun!
- Page 76 -
Click thumbnails for a larger picture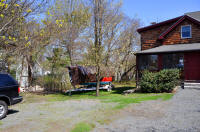 What a difference a year makes! Though I've seen worse winters, this one was no joy, with a couple of good snowstorms and very cold throughout. (Being hospitalized over Christmas week with the flu, then overnight a month later for testing after a doctor's erroneous false alarm "heart attack." didn't help either.) I burned through three cords of firewood, but spring has finally arrived — very belatedly, especially by comparison to last year's. Sort of anyway, but finally enough to uncover Chip Ahoy — though still only reaching the low-60s.
Late Saturday morning, April 27th, I pulled the boat from alongside the house to out front, uncovered it for the season, then climbed aboard and opened it up.
On Monday I got help taking the mast off and setting it alongside on its sawhorses.
The primary project this spring, now that I can get at, is is to remove the forward hatch and reseal it. (Apr. 27-30, 2013)
— MORE DETAILS —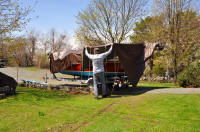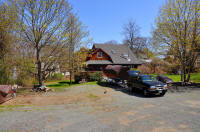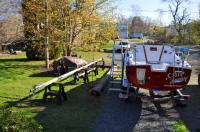 One of my first discoveries when hooking up the trailer last weekend was that the safety cables had corroded almost completely through; one came off in my hands when I pulled on it to get a measurement. I picked up some new chain and hardware, ground off the old cable fishhooks, swage, and remnants then attached the new safety chains this morning. (May 4, 2013)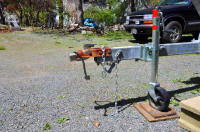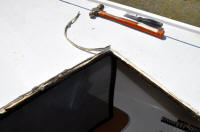 I got my primary project of 2013 — removing and resealing the forward hatch — completed. Funny how, when you have to do something twice, the second time is always easier! (May 5-10, 2013)
— MORE DETAILS —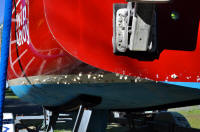 The Barnacle Problem
Stern-heavy Chip Ahoy had its worst barnacle problem ever last season. After some online research, I thought I'd found the best solution, Triton Marine Products' Hull Cleaner:
"Triton Marine's Hull Cleaner is the most aggressive cleaner of its type on the market, yet remains the safest to your boat's surfaces and the environment. SynTech, the synthetic power driving Triton Hull Cleaner, removes 70% more calcium buildup than hydrochloric acid but cannot harm your hull. It's so strong, it can remove barnacles and other calcium life forms in minutes. Hull Cleaner is non-corrosive and non-fuming."
The reviews extolled its virtues: spray it on, let it sit for 30 seconds, wipe off the barnacles. For less than $20 bucks, how could I beat that? I ordered it, paid extra for "expedited delivery."
First I carefully knocked off the barnacles with the trusty rigid putty knife and light taps with a hammer. Four applications of the hull cleaner over the course of yesterday and lots of wiping with a sponge and hosing in between — it wasn't doing the promised job.
Ultimately, I used 3M Extra Heavy-Duty compound by hand to clean off the barnacle remnants.
I don't know if traditional hydrochloric acid would have done a better job, but Triton Marine's Hull Cleaner was a big disappointment. I honestly can say it did little if anything. (May 17, 2013)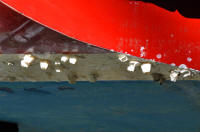 A GREAT DISAPPOINTMENT
I DO NOT RECOMMEND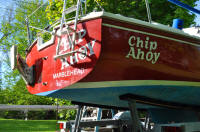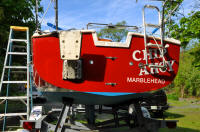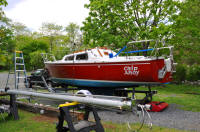 This morning I went out to the boat without a plan but to remove the gas tanks, so I can empty them into the Blazer and refill them with fresh gas. I decided to continue where I'd left off yesterday, scrubbing the waterline now that the aft ends were white instead of dirty and discolored. That 3M Extra Heavy-Duty compound was doing such a good job — even on the red paint above the white waterline — that I decided to keep going with it.
I'd planned to borrow Bob Donovan's polisher again this year, but time's getting short and I don't have it yet. The hull didn't look that bad, so I hand-compounded the port-side and transom. What a difference it made, nonetheless. (In the top two photos and the one on the left the difference between the forward area I'd compounded and the aft half of the hull yet to be done is apparent if looked at closely.) With with hand-compounding of the port-side and transom completed, I decided to keep going, protect my effort with Meguiar's Flagship Premium Cleaner/Wax. What a difference this made. The cleaner/wax works great on chrome and the brass transom scuppers too, I discovered.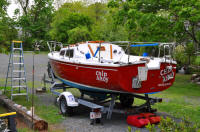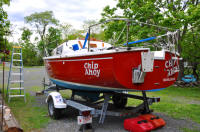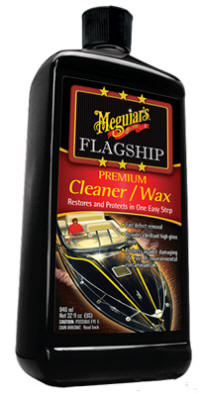 I HIGHLY RECOMMEND
Self-Portrait of the Photographer in the Mirror-Image Hull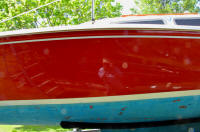 Unfortunately the camera's lens had specks of compound dust on it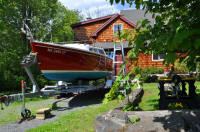 CLICK HERE FOR LARGE FILE
When I was done this afternoon the hull was completely back to life, mirror-shiny as ever for the start of another sailing season. Tomorrow I'll continue, doing the same on the starboard side. (May 18, 2013)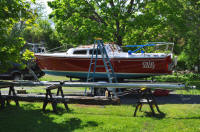 CLICK HERE FOR LARGE FILE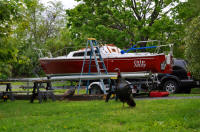 Yesterday I got the starboard side hand-compounded and waxed. The wild turkeys kept me company, overseeing my labor. The hull is done and looking damned good. It came out better than expected, again. (May 20, 2013)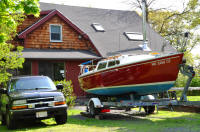 Moving along, I attacked the cabin interior — though this year it was less a chore than usual for some reason: It was relatively clean. Still it needed some attention for the season ahead. The teak trim is due for another refinishing, but too late now — I'll have to live with it. I hit the bare wood spots with teak oil, then waxed over them a few days later. I'm finding myself becoming a bit less finicky. (Jun. 9, 2013)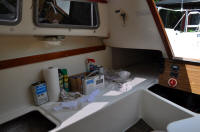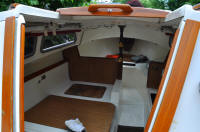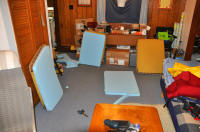 The bunk cushions are getting thin, uncomfortable to sleep on, so I took the three to an upholsterer. He wanted $700 rebuild them, advised that 4" cushions are needed for sleep, that I just buy some foam to add beneath them. I ordered a sheet (82" x 36") of Luxury-Firm High Density (Outdoor) foam then cut it to size. My thanks to Bob Keim for the carpet tape suggestion to attach the new foam to the cushions' undersides. The bunk feels very comfortable now, a huge improvement! (Jun. 11, 2013)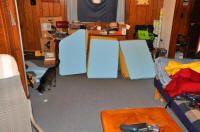 NEXT
It's never-ending ... onward to Sailing Season 2013!
Intro | Page 1 | Page 2 | Page 3 | Page 4 | Page 5 | Page 6 | Page 7 | Page 8 | Page 9 | Page 10
Page 11 | Page 12 | Page 13 | Page 14 | Page 15 | Page 16 | Page 17 | Page 18 | Page 19 | Page 20
Page 21 | Page 22 | Page 23 | Page 24 | Page 25 | Page 26 | Page 27 | Page 28 | Page 29 | Page 30
Page 31 | Page 32 | Page 33 | Page 34 | Page 35 | Page 36 | Page 37 | Page 38 | Page 39 | Page 40
Page 41 | Page 42 | Page 43 | Page 44 | Page 45 | Page 46 | Page 47 | Page 48 | Page 49 | Page 50
Page 51 | Page 52 | Page 53 | Page 54 | Page 55 | Page 56 | Page 57 | Page 58 | Page 59 | Page 60
Page 61 | Page 62 | Page 63 | Page 64 | Page 65 | Page 66 | Page 67 | Page 68 | Page 69 | Page 70
Page 71 | Page 72 | Page 73 | Page 74 | Page 75 | Page 76 | Page 77

---