Heading up Salem Sound toward Misery and Bakers Islands and Gloucester beyond. (Sep. 5, 2009)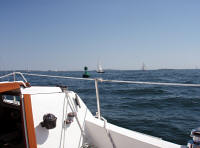 Salem Sound, still heading to the islands and the channel between.
Seas were running two to three feet, the sky was cloudless.
Off the coast of Manchester and Magnolia.
Inside the Gloucester breakwater, passing the historic Gloucester Sea Jacket Marine Paints factory, long closed but now a national historic site, I'm told.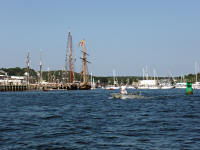 Some of the larger schooners gathered in the inner harbor preparing for tomorrow's race.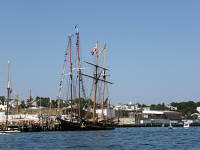 The schooners Bluenose II (against the dock) and Pride of Baltimore (on the outside with the raked masts).
Chip Ahoy in its slip at Brown's Yacht Services, beneath the gas dock and dockmaster Greg's office, at low tide.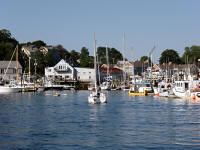 John Dugger and wife aboard 1974 C22 "Forevor & A Day" out of Gloucester, departing with a broken shroud.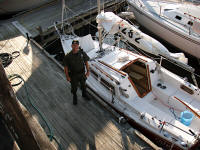 A state Division of Natural Resources officer, admiring Chip Ahoy.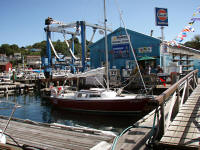 Chip Ahoy at its slip on the high tide. (Sep. 6, 2009)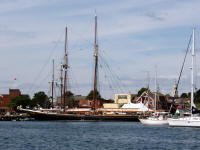 Leaving Gloucester Harbor for Marblehead at noon. (Sep. 7, 2009)
A few of the schooners were still at the commercial dock.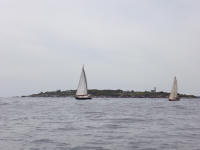 Approaching Bakers Island.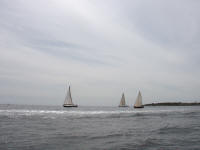 A number of other boats were out sailing though the channel as I entered Salem Sound.
Homeward bound. (Sep. 7, 2009)
See Chip Ahoy's complete log of the weekend