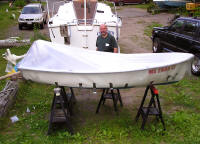 Today, Gloucester sailmaker Josh Bevins (who built my roller-fuller system) started on the project to cover my dinghy before my next month's sail up the coast of Maine in mid-July. (Jun. 22, 2005)
Chip Ahoy met up off the Swampscott coast with Wally and Terry Riddle ("Carpe Diem") to take photos of each other under sail. (Jul. 2, 2005)
We couldn't have asked for better weather over the three-day Independence Day weekend: today was sunny, in the mid-70s and a southeast wind of about 12 mph gusting to 18. Barbara came out for a sail, which has become a sort of 4th of July tradition for us. (Jul. 4, 2005)
After I spent some time at the mooring raising the boom and adjusting lines in an attempt to flatten the main sail for today's cruise, we hoisted sail and headed up toward Misery and Bakers Islands and back for a couple of hours. With the steady gusts, I decided to furl the genoa as a bit of a reef.
Using the stern pulpit as a backrest is my new favorite position, the tiller-pilot steering the boat on a steady port tack making about 5 knots. I intend to assume it often and for extended periods of time on my upcoming month's cruise up along the Maine coast, with a good book and a cold drink handy. Maybe I'll add a cushion behind me so I can even catch a nap!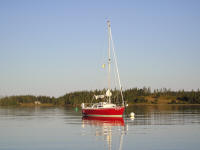 I took my annual singlehanded extended cruise (July 21 - August 12), starting in Portland, Maine by trailer and reaching Eastern Harbor, Cape Split -- South Addison Maine. The photo from the cruise album was taken in Southern Harbor, North Haven Island, Maine. (Aug. 13)
After recovering from "cruising burn-out," I trailered Chip Ahoy down to Riverhead Beach on Wally Riddle's ("Carpe Diem") trailer, where my buddy Ed and Vaughn McGrath ("French Curves") helped raise the mast. I spent the remainder of Thursday rigging the boat, then Ed and I launched it on Friday. I added a jaw shackle to the roller-furler drum where it attaches to the stem fitting, and longer studs to the turnbuckles to give me a little more adjustment in rigging that I'd discovered on my cruise was too tight. (Sep. 3, 2005)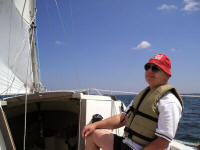 Today my buddy Ted Tripp came along for his annual day-sail aboard Chip Ahoy on day-two of this beautiful Labor Day weekend. Note his Russian sailing cap, bought from a crewman aboard a Russian tallship recently visiting Boston Harbor. It's red of course! (Sep. 4, 2005)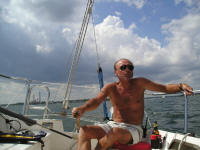 We couldn't have asked for a better day -- or three-day weekend for that matter, right through next mid-week anyway: sunny, high-70s and with a pretty steady 10 MPH wind from the north. We went out almost to Misery Island before coming about and heading back for the late-afternoon cookout at my place.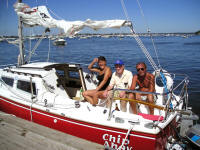 Today my sister, Diane, and dear ole Dad came out for a day-sail at last, on a perfect Labor Day weekend Monday. This shot was taken at the Village Street dock before we cast off for the afternoon. (Sep. 5, 2005) -- Continued . . .
NEXT
It's never-ending ... but Sailing Season '05 is
here!