The never-ending project to fill my hole in the ocean while bailing it out
The Ongoing Dinghy Project
A 9' Beacon Lynx, manufactured in Bristol, RI in 2000
-- Page 3 --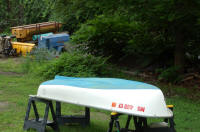 Yesterday I finished compounding the hull and applied the registration numbers and decals -- then noticed the sign shop had provided the wrong numbers -- 3489 instead of 2489! I removed the two 3s and will have to get two 2s from them, then plug them in.
Note the wood racks in the background, overgrown with bamboo. That jungle has got to be cut down by the end of next week, when I've got two cords of firewood coming, already. Due to the skyrocketing cost of heating oil for the coming winter, wood stoves are suddenly in great demand along with firewood. The price is $90/cord more than last fall and expected to climb higher, become unavailable by late fall. (Jul. 5, 2008)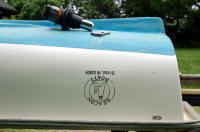 Trip Spinner at Beacon Boats of Bristol, RI, manufacturer of my Lynx 9, sent me a complimentary pair of vinyl decals to replace the slightly damaged ones on Chip Mate. I replaced them using the same method as removing and applying the vinyl registration numbers -- only Beacon Boats made their logo accurately! The heat-gun and single-edge razor scraper made short work of their removal.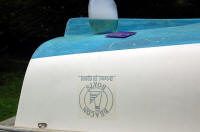 Before removing the old ones, I drew guide lines on the hull and on each decal's opaque lift-off paper so they could be lined up over where the old ones had been. I sprayed soapy water (dish water detergent mixed with water) on the bare hull, peeled the backing off a decal one at a time, sprayed the sticky back of the decal, and applied it to the hull. The soapy water allows moving it around until accurately positioned. Then I used the plastic spreader over the lift-off paper to squeegie out the soapy water and make a good adhesion between decal and hull. After letting it sit for a few minutes, I carefully peeled back the lift-off paper.
With the lift-off paper removed, the new brand decals are done, so I moved on with painting the bottom. I thought one coat over the old, sanded paint would do it, but ended up applying a second coat to the bottom to cover where it looked thin and streaky in areas.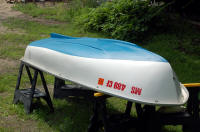 This morning I used some Easy Dab to finish cleaning up the hull, then waxed it with Meguiar's Flagship Premium Marine Wax left over from doing Chip Ahoy's hull. (Jul. 6, 2008)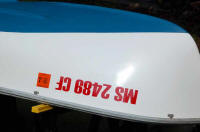 Yesterday I visited the sign shop where I'd had the state registration numbers made. They cut out another set of 2s. When I got home I applied them in the gaps I'd left in a matter of minutes, rubbed on a little wax. (Jul. 9, 2008)
Chip Mate with its once-damaged hull repaired and done, ready for the upcoming cruise. Vaughn McGrath ("French Curves") stopped by to drop off its outboard I'd loaned him. He'd helped me carry the dinghy over and set it up on the saw horses a few weeks ago, so knew what it had looked like back then. He commented: "Wow, you sure do nice work!"
Note that the bamboo weed jungle which had overgrown and buried the wood racks in the background was cut down and removed this morning (see first photo above.) I'm ready for premature delivery of the two cords of winter firewood -- in high summer! (Jul. 9, 2008)
See: Before and After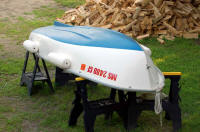 This evening I added four new fenders, two on each side, to Chip Mate. They're intended to be permanently attached; we'll see how permanent they remain for how long. After the damage sustained down on the dinghy dock the last time I kept it tied up there, and with it about to be tied up there for a few days in preparation for my cruise departure next week, then a few more after my return, I thought it prudent to protect all the work I've just completed. They'll be handy too along the cruise when I've got the dinghy tied up alongside Chip Ahoy for the night.
Note the firewood that was delivered a few days ago for next winter! (Jul. 13, 2008)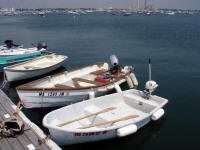 Yesterday Vaughn McGrath ("French Curves") came by with his pickup truck; we took Chip Mate down to the dock and put it in the water, tied it up to dinghy ring #60, which the harbormaster is letting me use temporarily. This morning I went back down and mounted the old Johnson 3 hp, fired it up. I took a few things out to Chip Ahoy that are coming along on the cruise and did a few little last minute things while aboard. Departure is the crack of dawn on Monday, July 21 -- less than three days away now. (Jul. 18, 2008)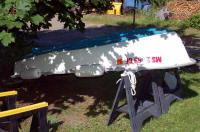 Back home from my 19-day cruise to Chebeague Island on Casco Bay, Maine, I had to pull Chip Mate out at the dinghy dock down the street and bring it home. John Graichen ("Malacass") came by in his pick-up truck on his way back from his boat and gave me a hand bringing it home last Sunday. It's now back on its sawhorses until the next cruise -- or until I get a ring for it down at the dinghy dock. (Aug. 27)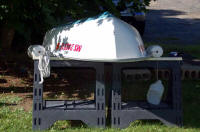 The dinghy did its job along the cruise, though I didn't need it often. There was a lot of bailing it out thanks to the miserable weather (I should have brought along its cover after all), but it was there when I needed it. After the experience on the Merrimack River's current, next spring I'll add a pair of cleats on the gunwales back near its stern. The old (1965) 3 HP Johnson is on its last legs. If I need an outboard in the future, it'll need to be replaced.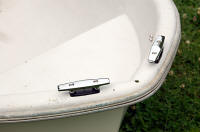 See cleats added fore and aft: Click Here
-- Page 1 | Back to Page 2 --