The new (cut down to fit when the keel is lowered) zinc installed. Hopefully it will help preserve the hangers, pin, and bushings. (Apr. 30, 2008)
The finished keel hung and ready to go. Four new stainless bolts from Catalina Direct and Locktite were used to fasten the hangers.
The new epoxy mold shaped to keep the keel from moving side-to-side (looking aft). After it had hardened and the keel was lowered, the waxed paper removed, Tommy sanded and faired it.
The new epoxy mold (looking forward). The keel is quite off-center in its slot when raised, but at least it won't be moving in there any more. This and the new pin and hanger bushings should eliminate the thunking.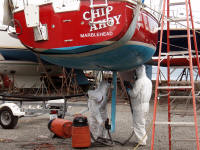 Two of the boatyard crew sanding Chip Ahoy's bottom before applying new bottom paint.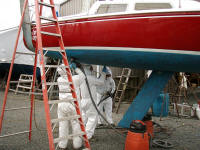 The sanding crew, joined by Tommy giving everything a last lookover before the bottom painting begins.
Chip Ahoy's bottom, having its bootline masked, almost ready to get its bottom painted. (Apr. 30, 2008)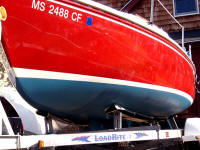 Back home again, Chip Ahoy is parked in front of my house. I trailered it back early last evening. (May 1, 2008)
-- Page 1 -- Page 2 -- Back to Page 3 --
It's never-ending ... but Sailing Season '08 is coming fast!