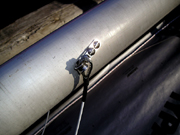 I installed the Harken 252 Lazy Jacks kit (PDF file) starting with attaching the tangs to both sides of the mast. (Apr. 19, 2004)
They are located 14' above the top of the boom on my old-style mast, the screw holes drilled and tapped for 10/32 machine screws.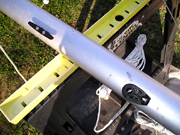 The boom cheek block is mounted 2' back from the gooseneck, attached with #8-32 machine screws after drilling and tapping; its adjusting cleat is mounted just forward of it, fastened with self-tapping sheet metal screws.
On the opposite side of the boom from the cheek block I drilled and tapped two holes for #10-32 machine screws, then ran the dead end eyestrap through the control line's eye splice and fastened it to the boom.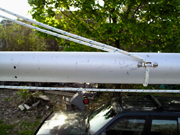 After raising the mast and hanging the boom, I drilled and tapped the boom for the cradle straps and fastened them on. (May 9, 2004)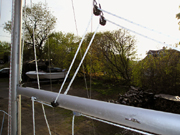 With all the hardware installed, I ran the control line from the dead end eyestrap on the starboard side of the boom, through the wire assembly block and back to the cradle straps (see above), then forward up through the wire assembly block on the port side, down through the cheek block and around its cleat.
The Harken 252 Lazy Jack project completed. (May 10, 2004)
NOTE: Subsequently, contrary to the Harken instructions estimate, I moved the aft cradle straps 15" further aft for the sail to drop onto the boom all the way back. PHOTO
Moving on with Season 2004 improvements
It's never-ending ... but spring has arrived at last, the projects have begun!