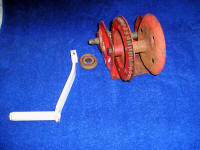 Now that I'm caught up from the major work needed last spring just to put Chip Ahoy in the water and sail, this down-season I'm going after the details that I'd put aside. Since the keel cable, hose and turning ball are being replaced (along with all the work to the keel itself), one of my indoor winter projects is the keel winch. (Dec. 15, 2003)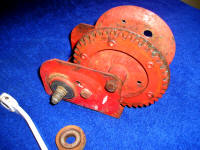 Assured by the boatyard that the hangers and pivot pin are in great shape (expecting the worst, I now have a replacement kit at $99.50 "in stock"), from one end to the other it's about all that's left to an entirely restored swing keel system. Though the winch assembly structurally isn't in really bad shape, this is a good time to take it down and rebuild and refinish it.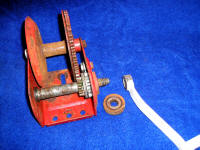 My plan is to replace as much of the hardware with stainless as possible, then sand, prime and paint white like the handle (which I did this past spring).
I'll also have the diameter of the winch cable hub expanded.
The shaft wouldn't come all the way out; the gear and clutch prevent it.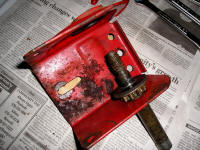 Apparently they are press-fitted or just corroded onto the shaft; I suspect the former.
The winch after being sandblasted at my buddy Brad's auto restoration shop and ready for primer (Dec. 19, 2003). We decided to leave the shaft in place and instead taped up all vulnerable parts and avoided blasting them.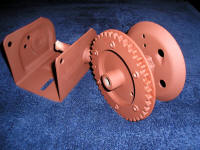 The winch with two coats of Rustoleum primer.
The keel winch assembly completed, with two coats of white Rustoleum enamel, and greased. Note the larger diameter hub from a piece of pipe I had welded on. (Dec. 30, 2003)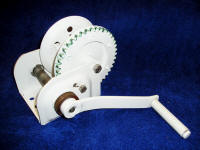 There wasn't much hardware I could replace with stainless steel, but where I could I did. That amounted to the spool axle bolt, the ratchet bolt and the nuts and washers for the cable clamp. (I wasn't able to find replacement small carriage bolts/screws in stainless small enough to fit the square inserts in the hub.)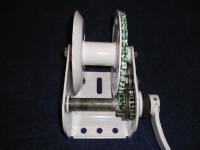 I expanded the diameter of the cable spool by having a piece of tubing cut then welded over the old spool. Total cost: $20 for the pipe and welding, pocket change for the stainless hardware, and two cans of spray paint.
The winch was then ready to install on the boat.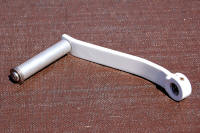 In the spring of 2008 I replaced the grip on the keel winch handle. The original plastic grip had begun to disintegrate. (See more details here.)
Click here to see before and after comparisons
Moving on with Season 2004 improvements
It's never-ending ... and the best times have ended again for now!