Before I cruise up to reportedly mosquito-infested Chebeague Island in Casco Bay this summer, I've decided to add a screen inside Chip Ahoy's forward hatch, a recent project in itself (2006). If it works out as expected, I'll likely do something similar with the companionway. (Apr. 23, 2008)
Today I got the Velcro strips attached. I started by cleaning the surface of the v-berth overhead area around the forward hatch with acetone and elbow grease, to give the Velcro's adhesive backing a good surface to stick. I measured and cut two parallel strips from the hook side of the Velcro then, working on my back, applied them one at a time butting along the edge of the hatch flange. I followed by measuring and cutting two more strips, sticking them on perpendicular to the first two. (May 5, 2008)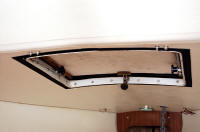 Another view of the hook side of the applied Velcro. I'll let it sit untouched for at least 24 hours to fully cure and adhere well, permanently I hope. The Velcro actually added a nice finishing touch over the minor gap left from cutting the deck hole and installing the hatch.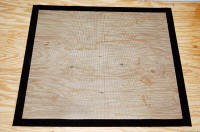 Back in the laundry room at my makeshift workbench, a sheet of plywood atop the washer/dryer, I unrolled the screen material. Using an Exacto knife and a metal yardstick for a straightedge, I measured and cut the screen to size then applied the fabric side of the Velcro strips to its edges. Next I want to get it machine stitched all around with some sort of backing fabric on the opposite side of the screen from the Velcro strips, sandwiching the screen between the two. I'll have a loop added at the same time; something to pull the screen free from the Velcro's hook side when removing.
I took the screen to MacCormick Marine Upholstery in Danvers this week and had strips of thin canvas double-stitched all around on the side opposite from the Velcro. It cost $10 for the job and was done in a few minutes, while I waited. (May 24, 2008)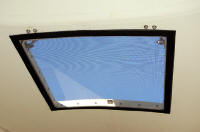 This morning I attached it to the hatch's Velcro-hooked strip above the v-berth in Chip Ahoy' cabin -- the first time I tried it for fit based on my measurements. It fit perfectly. Even more impressive is that it fit tightly; I'd been a little concerned that it would sag in the middle, but not even a hint of that.
A view from the top. Another little project completed to my satisfaction. Time to move on!
Moving on with Season 2008 improvements
It's never-ending ... but Sailing Season '08 has arrived!